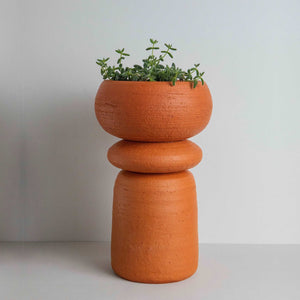 Diameter ~ ø 26cm
Heights / 42cm
design by Udumbara Studio 
Helsinki / Finland
_________

All UDUMBARA products are handmade, using wild, natural clay from the small village of Kultela in Southwestern Finland. The studio's earth-friendly pottery, have been made in Kallio, Helsinki since 1994, emphasising on the unique values of natural clay as well as being warm, homely and above all an ecological choice.
Wild clay planters are ideally suited for a plant's physiological needs. The porous nature of the clay provides moderate and consistent transfer of moist from plant to clay and vice versa, allowing consistently ample conditions for plant roots. The clay itself has excellent heat retention and repellent properties and part of wild clay beauty is its tendency to beautify with age as it absorbs mineral salts from the soil.

Wild  clay  has  its  own  temperamental  nature  and  requires  plenty of patience, with some of the bigger objects requiring months of clay ageing before firing. This product  is made using low-heat firing method, powered by solar energy.
PLEASE NOTE THIS IS ONE OFF, UNIQUE PIECE.