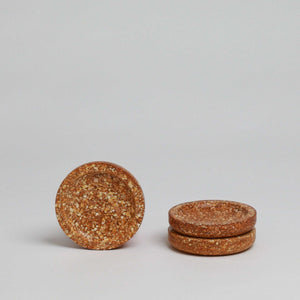 Dimensions / ø 10 x 4(h)cm

design by
Studio Basse Stittgen
Eindhoven / The Netherlands
_________
Being the newest edition to the range, each tray is made from the whites and shells of at least 30 b-stock and/or broken eggs. Apart from filling the role of the discontinued eggcup saucer, the new tray can be used on its own as a jewellery tray or vessel. 

"How  Do You Like Your Eggs" range and the studio respectively explores the extraordinary materiality of an ordinary item such as waste food and steers attention onto the issue of overproduction and unnecessary waste as each year one third of all egg production is lost or wasted amassing to the loss of over 300 million eggs!
How to recycle: It decompose fully without leaving traces.
Product care / 
This item is not suitable for dishwashing,
ovens or microwaves!