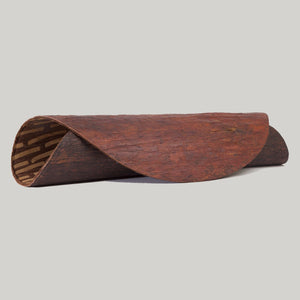 Length / 60cm 
Width / 70cm

The bottom printed in silkscreen technique as an anti-slip. Bark is finished with a wax which makes it water repellent. This rug has been inspired by the Japanese Kintsugi art emphasising the natural imperfection of bark. A tear has been filled with a wool line, just like moss in the forests. 

Just as trees vary from one to another, each item would have a slight difference in colour or appearance, which we see as an advantage rather than a vice!

design by Studio Sarmite 
Frankfurt am Main / Germany
_________

PineSkins, as the name suggests , is the skin of a Pine tree. Within the tree cutting industry pines are valued for its cheap timber, which leaves the bark of the tree as waste. This leather-like material surprises with its softness in contrast to the thick and harsh character associated with pine trees. Fresh bark is treated with natural ingredients that preserve its softness.
PineSkins objects invite people to slow down and experience the tactility and musky smell of the forest. The material's natural texture tickles your senses, particularly when walking barefoot and to add to the pleasure of using it, the bark pattern does not reveal all of its variety until you take a closer look.