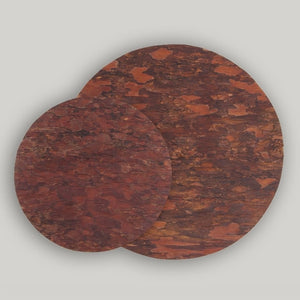 Size / ~ ø 38cm
Durable and Water repellent

design by Studio Sarmite 
Frankfurt am Main / Germany
_________

The smell of the place mats is astonishingly good and as the name suggests, it is made from the skin of a pine tree. The leather-like material surprises with its softness in contrast to the thick and harsh character associated with pine trees. Once stripped from felled trees fresh bark is treated with natural oils to preserve its softness, keeping it simple and ultimately organic.  
Through the PineSkins range, the design studio invites people to slow down and experience the tactility and musky smell of the forest and help them reconnect with nature through their senses. 
Just as trees vary from one to another, each item would have a slight difference in colour or appearance, which we see as an advantage rather than a vice!